Climatological Data for
Richmond International Airport (RIC).
Long-term Monthly and Annual Averages.

---
Station: 447201/13740, RICHMOND INTERNATIONAL AP, Virginia
Climate Division: Eastern Piedmont
Elev.: 50.0 m above sea level
Coordinates: Lat. 37°31'N, Lon. 77°19'W
Distance and bearing of station from the University of Richmond Campus: 19.6 km at 111 degrees.
Source of raw data: National Climatic Data Center (NCDC), http://www.ncdc.noaa.gov/
Processed by: Tihomir Kostadinov, June 15, 2001.
---
| | | | | |
| --- | --- | --- | --- | --- |
| Normal monthly annual means | | | | |
| Month | Temp, oC | Temp, oF | Precipitation, inches | Precipitation, mm |
| January | 2.06 | 35.70 | 3.24 | 82.30 |
| February | 3.72 | 38.70 | 3.16 | 80.26 |
| March | 8.89 | 48.00 | 3.61 | 91.69 |
| April | 14.06 | 57.30 | 2.96 | 75.18 |
| May | 18.89 | 66.00 | 3.84 | 97.54 |
| June | 23.28 | 73.90 | 3.62 | 91.95 |
| July | 25.56 | 78.00 | 5.03 | 127.76 |
| August | 24.89 | 76.80 | 4.40 | 111.76 |
| September | 21.11 | 70.00 | 3.34 | 84.84 |
| October | 14.78 | 58.60 | 3.53 | 89.66 |
| November | 9.78 | 49.60 | 3.17 | 80.52 |
| December | 4.50 | 40.10 | 3.26 | 82.80 |
| Annual Average | 14.28 | 57.70 | 43.16 | 1096.26 |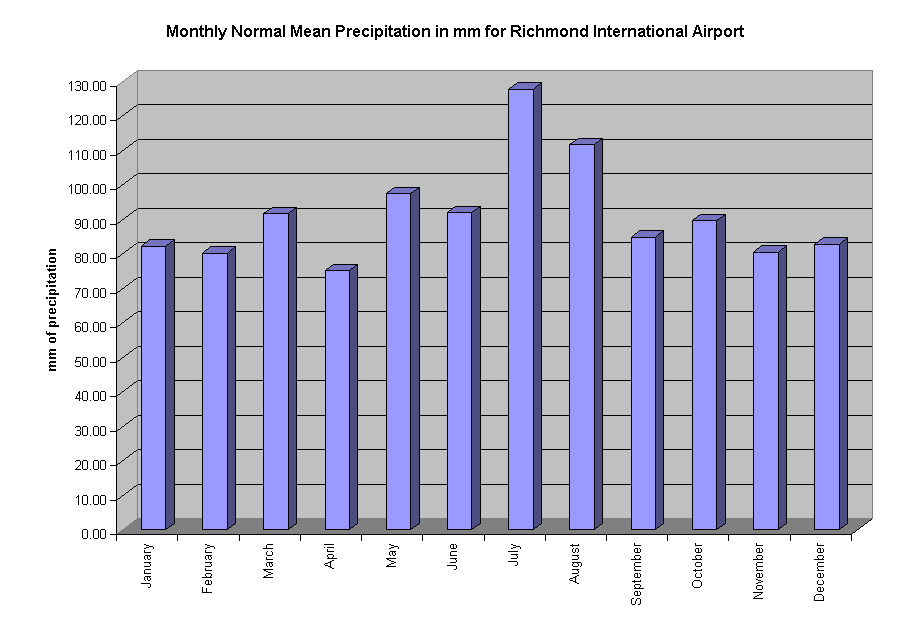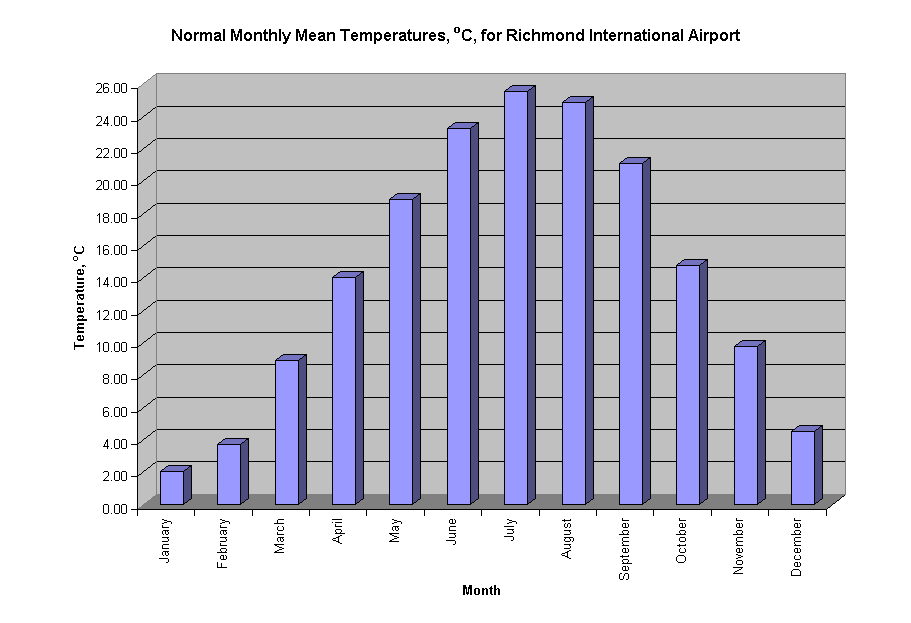 Back to Introduction

Last Updated on 15.6.2001
By Tihomir Kostadinov